AGU Fall Meeting 2022
December 16 - 16, 2022
Location: Chicago, IL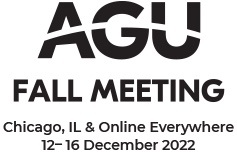 CUAHSI will be hosting an in-person exhibit booth at this year's AGU Fall Meeting from December 12-16, 2022 in Chicago, IL. We will be located at booth #1312 in the exhibitors hall.
Visit Us at a POD
National Water Center Innovators Program Summer Institute Meet & Greet - Stop by to see your fellow alums or to learn more about the program!

POD 1 - 5:00 PM CST on December 12th
CUAHSI Meet and Greet - Join CUAHSI program participants to meet and chat off-screen. We look forward to connecting with CVU students, workshop participants, grant awardees, and any CUAHSI community members that stop by!

POD 7 - 1:30 PM CST on December 13th
Attend a Help Desk Session
10 AM, December 13th with Martin Seul, Technical Director
Help Topics: General Data Management, General Cloud Computing, Data Quality Assurance, Persistent Identifiers, Seismic Data Access, Software Development
10 AM, December 15th with Clara Cogswell, Community Support Hydrologist
Help Topics: General Data Management, Data Repositories, Data Management Plans, Data Publication, Ocean Data Best Practices, Metadata
CUAHSI Staff will be presenting at several online, oral and poster sessions. The complete list can be accessed here.