HYDROINFORMATICS BLOG - Hello to GroMoPo: Introducing a community Groundwater Model Portal
Posted Oct 9, 2023
---
Hydroinformatics Blog Post
Organized by the CUAHSI Informatics Standing Committee. Contributions are welcome, please contact Veronica Sosa Gonzalez at email hidden; JavaScript is required.
By: Sam Zipper
Open science is a broad movement to make all aspects of the research workflow - from data collection to publication - available to anyone who'd like to access them. Essential characteristics of open science research workflows are findable, accessible, interoperable, and reproducible (FAIR) data and models. While FAIR data are becoming more widespread in the hydrologic sciences, FAIR models remain rare in practice despite their significant benefits. To address this, an international group of groundwater scientists, supported by a CUAHSI HydroInformatics Innovation Fellowship, developed a community Groundwater Model Portal (GroMoPo; gromopo.org) as a resource to share and discover numerical groundwater models.

GroMoPo has two primary components: a Model Finder page, where users can explore a global map of groundwater models from the existing GroMoPo database, and a Submit Model page, where users can contribute to the GroMoPo database by submitting metadata about a groundwater model. The Model Finder page (Figure 1) is intended to help users discover models and find more information about them and displays the extent of existing groundwater models as bounding boxes on an interactive map. Clicking on a model extent on the map will bring up a pop-up linking to the original paper or report describing that model, as well as a HydroShare resource where metadata such as the model code, purpose, boundary conditions, etc. have been compiled.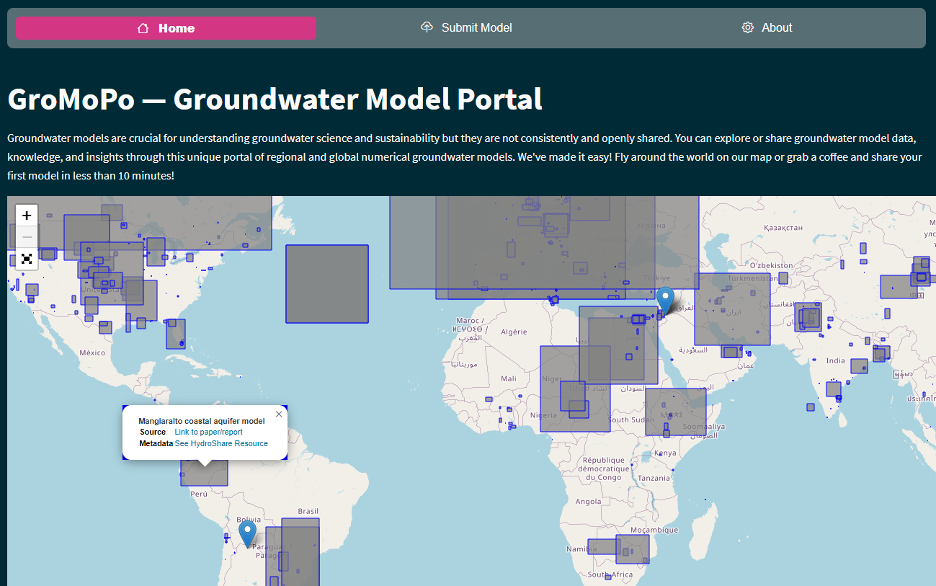 Figure 1. The GroMoPo model finder home page (screenshot 8/17/2023). Each gray box indicates the extent of a groundwater model contained in the GroMoPo database. The selected model shows a pop-up window with links to the paper/report describing the model and a HydroShare resource where data has been aggregated. Check out the real thing at gromopo.org.

On the Submit Model page, a user can enter metadata about a model to have it added to the GroMoPo database. There are a few mandatory fields (such as the spatial extent and model platform used) and a larger number of optional fields (such as geological setting of the model and number of model layers). When a new model is submitted, the data are automatically uploaded to HydroShare as a new resource, and the model finder map is updated weekly. GroMoPo is currently built using the free version of streamlit, though ongoing work is intended to increase capabilities and may require changing to another platform.

As an open science project, GroMoPo depends on a community to keep it alive. First and foremost, if you have made a groundwater model or know about one that isn't on our Model Finder map, please share its metadata by submitting it to GroMoPo!
We would also love to hear innovative ways that you could use GroMoPo in your own teaching, research, or outreach, and are always looking for more people to help contribute to the development of the web tool. If you are interested in getting more deeply involved in the development and future of GroMoPo, please send me an email (samzipper [at] ku.edu).
Additional Resources
GroMoPo is available online at gromopo.org
Acknowledgments
GroMoPo has been a collaborative community effort and key contributors include Kevin M. Befus, Robert Reinecke, Daniel Zamrsky, Tom Gleeson, Sacha Ruzzante, Kristen Jordan, Kyle Compare, Daniel Kretschmer, Mark Cuthbert, Anthony M. Castronova, Thorsten Wagener, and Marc F.P. Bierkens. Funding has come from the CUAHSI HydroInformatics Innovation Fellowship and computational resources from the Kansas Geological Survey.
About the Author
Sam Zipper is a groundwater ecohydrologist at the Kansas Geological Survey, a research and service unit of the University of Kansas, where he leads the HydroEcology of Anthropogenic Landscapes research group (HEAL@KGS). For more information, please see samzipper.com

References
Zipper, S., Befus, K.M., Reinecke, R., Zamrsky, D., Gleeson, T., Ruzzante, S., Jordan, K., Compare, K., Kretschmer, D., Cuthbert, M., Castronova, A.M., Wagener, T., Bierkens, M.F.P., 2023. GroMoPo: A Groundwater Model Portal for Findable, Accessible, Interoperable, and Reusable (FAIR) modeling. Groundwater. https://doi.org/10.1111/gwat.13343